< June 21-2007 | Notes Library | July 5-2007 >
Weekly Market Notes for June 28, 2007
Hello Market Friends:
The market's the place to get ready for summer's first long weekend, with a celebration of Canadian bounty.
Ted should still have lots of strawberries, but if you're planning to make jam or freeze some, or just want to feast, don't delay! The hot weather is speeding us through the season. By next week, Laura Sabourin of Feast of Fields reports that raspberries should be ready, bringing her back to market.
From Plan B:
"We're picking the first of the cherries at Clayton Farm tonight. There won't be too many but they look good. We should also have a small supply of our own salad mix, as well as chard and beets, lettuce, some sugar snaps, fresh onions, herbs and fresh garlic bulbs. Some beautiful flowers on the way for the weekend. Pray for rain because we are! Safe travels and have fun! Alvaro
From Monika of Greenfields:
"Who wants Birthday Beets (for Canada Day)!! We have lots of tender, deep red baby beets with beautiful fresh tops. The first early green cabbages are here just in time for making refreshing coleslaw for the long weekend! Our greens are delicious as ever: green and black kale, bright red and rainbow chard, romaine, red leaf and lettuce mix. Our herb selection includes: parsley, cilantro, oregano and wild mint. Sugar snap and snow peas make for a sweet stir-fry flavoured with twirly garlic-scapes. For herbivores in search of Omega 3 and 6 fatty acids, we have an offering of purslane this week, which is a nice citrusy-sour addition to salads. And of course, look forward to lots more sweet and juicy strawberries as well as healthy dark-green broccoli."
From Jonathan Forbes:
"I'll be at the market tomorrow with those packettes of dried mushrooms that are perfect for camping trips!"
Deer Valley Farm will be featuring their excellent venison burgers (6 oz. of 100% pure, lean venison) to enjoy at the market or take along to barbeque. For nutritional info., you can go to: www.venison.ca
We'll have some special guests this week, a group of young-and very young cellists from the Royal Conservatory of Music. They are students of cellist Susan Gagnon, who has become a market regular since the RCM moved to its temporary quarters just over on Croatia Street. Performance at about 5.
Fine food and fine entertainment await you.
See you at the market!
Anne
p.s. Anna Bekerman will be writing the market news for the next two weeks as I'll be away (but thinking of you at market time!)
Dufferin Grove Organic Farmers' Market
Thursdays, 3-7 p.m. year-round
www.dufferinpark.ca
Sosnicki Farm June 2007
posted June 27, 2007
Hey, this is kinda funny, as even though these are just a week and a day old, the fields have changed like you would NOT believe. I swear not, the potatoes are TWICE as big now!!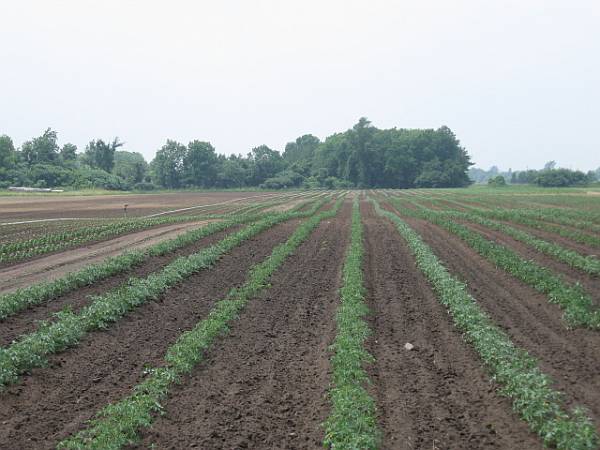 Our tomato patch last week. You can tell the different varieties from the colour and texture of the foliage.....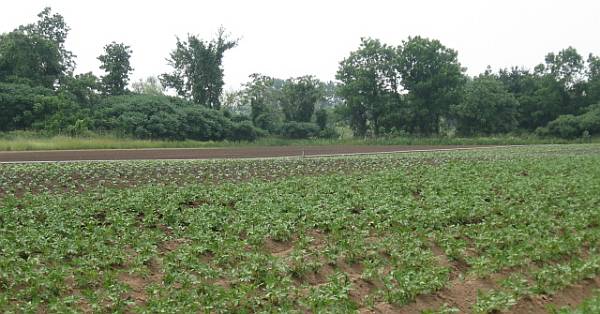 Our potatoes LAST WEEK! They have grown a foot since then I swear! I will send another pic!! Lots of irrigation and this heat!!! Zucs, Cus and Melons in the background. We will be harvesting the first of the cucs NEXT WEEK!!! Holy heat, LOTS of irrigation, things are booming! Great tomato/pepper/cuc fields let me tell you!!!
Ben will be there tomorrow with the last of our lettuce AND peas!! Fast done, I know, blame the heat. We are babying our big crops right now.......Get ready for a bumper harvest of the good favs: tomatoes (roma, slicing, TONS of heirlooms, peppers, sweet corn, onions, potatoes (Ben dug some today for his supper!!!! Just one plant bearing a few bit size pieces for his first tasting!!!
- Jess