On this page:
Welcome | Latest News | Vandalism | Maintenance Requests | Storylines
(click to open)
Quick Page Table of Contents
Welcome to Maintenance
Park maintenance 2020 during covid
---
The remainder of this section is an ARCHIVE -- NOT UP TO DATE
posted July 29, 2004

If you find a picnic table that's wobbly or a mess of trash in the gardens or a nail sticking up in the playground, please tell the park staff (in summer you'll usually find them at the playground or near the ovens, in winter at the rink). The same goes for destructive or scary behaviour. If it happens at night, leave a message on the park phone at 416 392-0913.

May 2006

Sign for the rink house, oven logo removed
---
2015
Huge tree branch down in NO wind Sept.5 2015
On the Saturday of the long weekend there was a heat wave and the park was full of picnickers. At about 6.45 pm there was a loud crack and a very large silver maple branch fell to the ground. A group of people nearby said they had just moved their picnic blanket from that spot minutes earlier, because they were bothered by the evening sun shining in their eyes. If they had still been next to the tree they would have been badly hurt. The thing is, there was no breath of wind, and no warning before the branch fell.
We have written to the manager of Forestry, to find out if there is no way of telling that a tree might be weak before it actually falls down.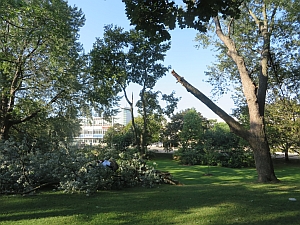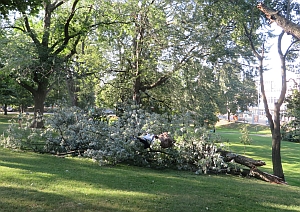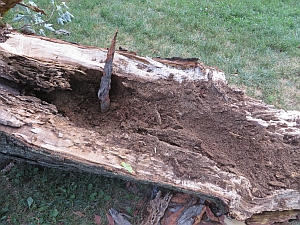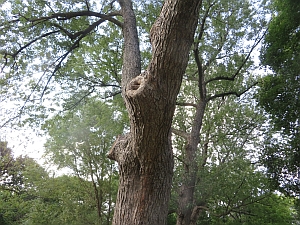 Response from Forestry manager Dean Hart, Sept.8, 2015
I was very glad to hear that no one was hurt when this large limb came down. The downed limb was cautioned taped off on Sunday morning, and should have been removed from the park today.
Clues of actual or possible internal decay; include; cavities, cracks, sections of missing bark, large old pruning cuts that have healed over, and the presence of fungal fruiting bodies.
Where there is a structural weakness, other factors to be considered are: potential targets if a failure was to occur, if the tree or limb is upright or on a lean, presence of callous tissue development around a wound, wind exposure, and the health of the tree. A healthy tree has a greater ability to inhibit the spread of decay causing fungus, seal a wound and as merited add additional support to counter act a structural weakness.
In this case, the limb in question was growing at approximately 45 degree angle. The remainder of the main tree limbs are upright. The tree is in fair to good health, showing good callous development around old wounds. This tree has been scheduled to be pruned to remove the remnant branch stub and to remove deadwood.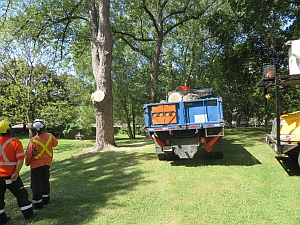 The trees in this high use park will be inspected this fall for any required maintenance, with the associated work to be completed over the winter.
Our tree maintenance budget is not broken down by Park, but rather is pooled centrally. Greater maintenance emphasis is placed on treed park areas that receive high usage, such as picnic areas, splash pads, and wading pools.
Branch cut off by Forestry crew Sept.10, 2015
The remainder of the broken branch was cut off today and the Forestry staff pointed out that the stump showed no sign of rot, nor did the end pieces that were in the truck. That's the good news.
The bad news is that despite the lack of external evidence of a problem, the branch came down with no warning. In a park with so many old trees, people need to look out for where they put their picnic -- defensive picnicking!
Sept.16, 2015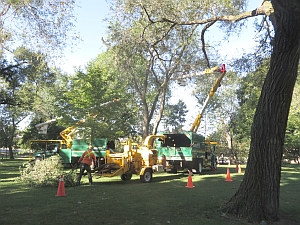 Forestry workers have been in the park working on the trees every day since Monday Sept.14. One of the crew said there's lots of work to do -- they might be here all month.
Vandalism, how we deal with it
posted April 25, 2014
| | |
| --- | --- |
| All parks are troubled by vandalism, and when we built our park outdoor ovens we had to get practical about dealing with it. The things that we found out about protecting the ovens will also work for other kinds of park vandalism. | Here are the rules of vandalism that we go by: Watch new structures more closely; Repair vandalism (including graffiti) right away; Give the vandals a few very easy targets; Supply alternative targets; Let the oven (or any other important park structure) make friends for itself; Take vandals to court if they're caught; If park staff, police, or the courts don't take vandalism seriously, community follow-up can help. Read more >> |
Maintenance Requests and Followup
posted April 20, 2006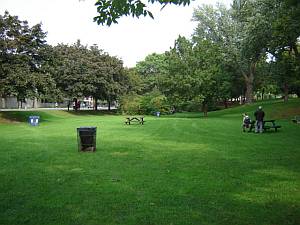 This is a database of requests starting in April 2006 and not carrying on past the end of that year. It was an attempt to make it easier for park staff, Parks, Forestry and Recreation personnel, and neighbours, to track maintenance issues at the park. But it was too much work to keep it up. Since then there have been occasional postings.
To post additional details about any of these park maintenance items, or to add new ones, email: maintenance@dufferinpark.ca.
2014
Archived Storylines from Past Years
posted April 8, 2006
park maintenance

posted April 4, 2004

posted April 4, 2004

posted April 4, 2004

May 2, 2004

posted May 17, 2004

posted June 5, 2004

posted June 7, 2003

posted September 27, 2004

Working With Park Maintenance People

posted October 27, 2004

posted January 18, 2005

posted August 7, 2005

Progress in maintenance work

posted November 7, 2001

posted May 7, 2002

posted May 20, 2004

posted September 27, 2004

Working With Park Maintenance People

posted October 27, 2004

posted April 14, 2005

posted April 7, 2002

posted October 27, 2004

Posted November 12, 2004

posted January 15, 2005

posted August 12, 2005

posted May 17, 2004

Posted November 18, 2004

posted September 7, 2001

posted April 19, 2004

posted December 28, 2003




posted June 7, 2005